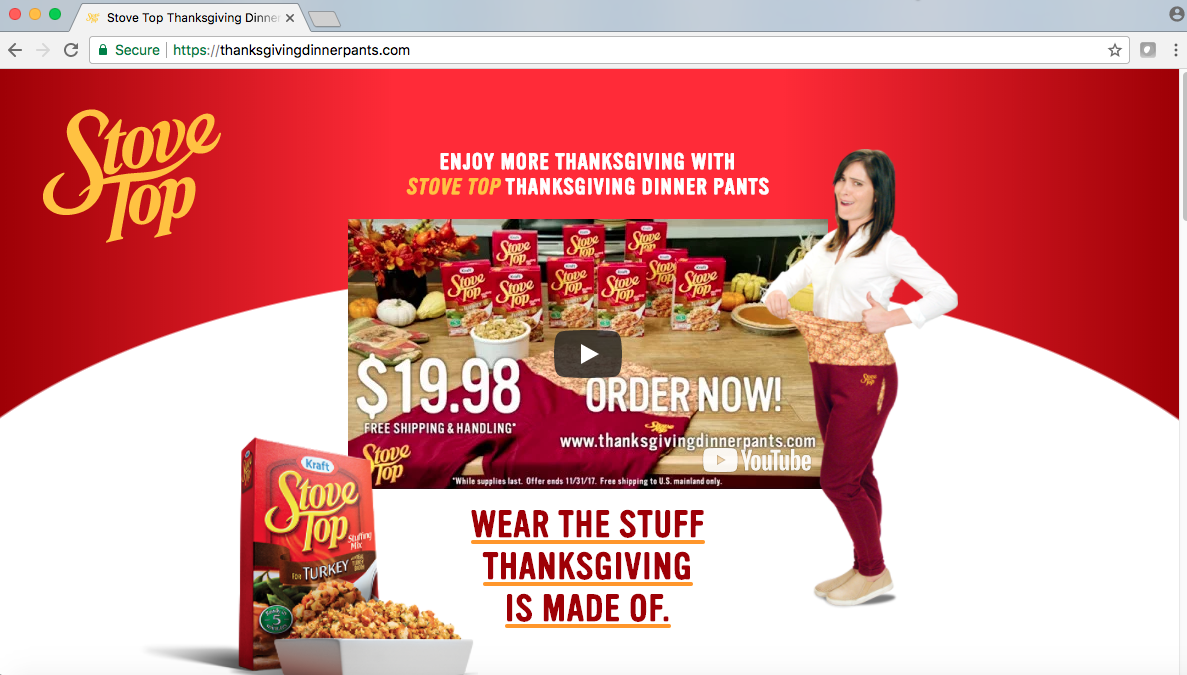 Great Marketing Campaigns – Stovetop Stuffing Thanksgiving Pants

DeWinter Marketing Raves & Rants: Stovetop Stuffing Campaign -Thanksgiving 2017
In the realm of truly great marketing campaigns, Stovetop Stuffing gets the prize for 2017, with an incredible marketing campaign that generated a TON of publicity, social media buzz, and actually helped them generate revenue from an unlikely source: branded clothing. As I watched this campaign unfold in November 2017, I was in awe at the brilliance, simplicity, and humor of this campaign. It was hilarious and totally effective.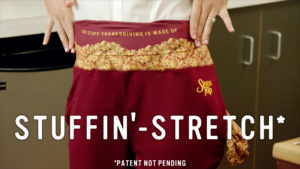 2017 Stovetop Stuffing Campaign Highlights
Prior to Thanksgiving 2017, Stovetop Stuffing announced that it was selling special Stovetop Stuffing-branded Thanksgiving pants.
These pants featured a special expandable waistline, thus allowing Thanksgiving feasters to eat to their heart's content without being uncomfortable as their pants started to get tight from over-eating.
As part of the campaign, Stovetop took "kitsch-y" glamour shots of individuals & families modeling the branded Thanksgiving pants.
They announced the availability of these special pants designed to be worn at Thanksgiving dinners, and offered them for sale on the Internet for $19.98 per pair.
They created a special website: www.ThanksgivingDinnerPants.com where you could actually buy these branded, expandable trousers for men & women.
2017 Stovetop Stuffing Campaign Results
Once Stovetop announced the availability of the expandable Thanksgiving dinner pants, it went viral, and the pants sold out.
Media outlets that picked the story up included:
USA today
Time Magazine
Food & Wine Magazine
People Magazine
Adweek
Cosmopolitan
ABC, CBS, Fox News and MUCH more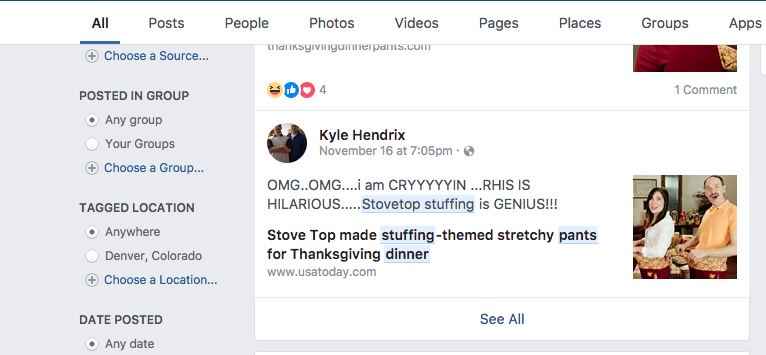 On social media, the story spread like wildfire because it was so funny. And as a result, the pants sold out and Stovetop Stuffing got press coverage and social media coverage like its never seen before, and right before Thanksgiving. People were posting news of the expandable Thanksgiving pants on Facebook saying they were laughing so hard, they were crying. And then of course, they re-posted the news again and again, which gave the campaign even more "juice."
2017 Stovetop Stuffing Campaign Learning Points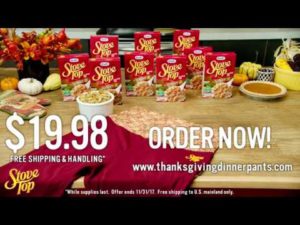 Learning Point 1: Humor Wins
The success of this hilarious, brilliant marketing campaign reinforces the message from the classic song from "Singing in the Rain" featuring the legendary dancer/singer Donald O'Connor, i.e. "Make'em Laugh." If what you do or sell can be parlayed into something funny without offending people, it will be covered and shared.
Learning Point 2: Being Funny Isn't Enough. You've Got To Prompt Consumers About the Product or Service You're Selling
As the Stovetop pants were featured in photos, boxes of Stovetop Stuffing were featured prominently that provided a visual reminder and prompt to buy Stovetop Stuffing for Thanksgiving. If you implement this type of campaign, make sure you feature your product or service. In the case of the Stovetop Stuffing campaign, the product was featured on the pants themselves and in photos of the pants.
Learning Point 3: Branded Merchandise Works If It's Compelling Enough
If you're offering something truly compelling, you can get consumers to buy branded merchandise that serves as a walking advertisement for your product or service.
DeWinter Marketing Raves & Rants Assessment
I give this brilliant campaign a 5-snowflake rating (the best), and I salute the creative team that came up with this.