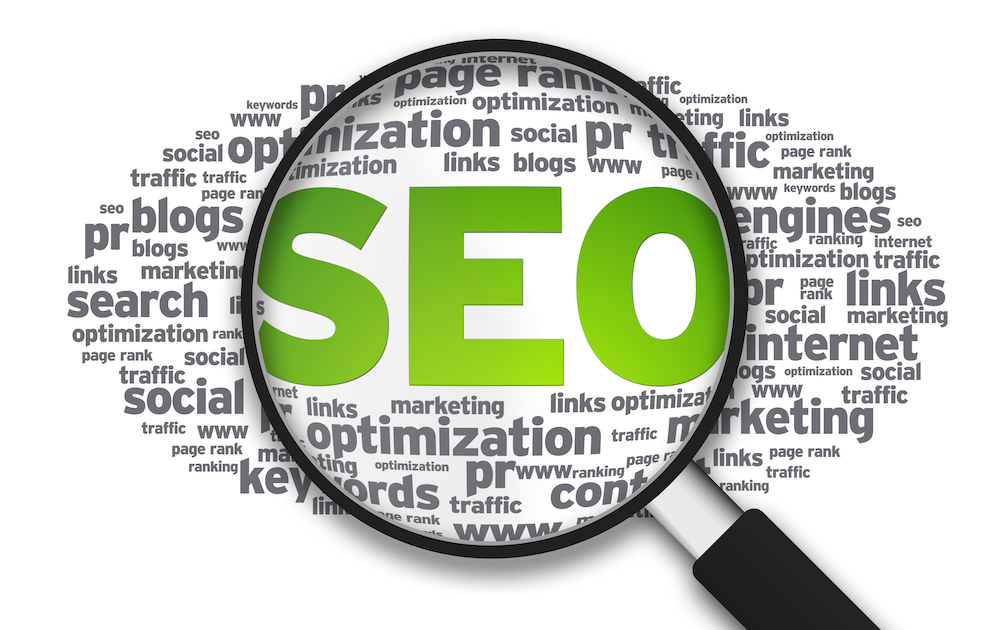 SEO Basics for Websites: Your First Step in Helping Your Website Rise in Search Rankings
When it comes to deploying Search Engine Optimization (SEO) for your website, SEO basics are where you start. Before you move on to other tactics for helping your website rise in the search rankings, you have to address the fundamentals of SEO. With that in mind, here are some tips on the basics of SEO.
What is Search Engine Optimization?
In simple terms, Search Engine Optimization is a specific process to follow to help your website as a whole, or a specific website page, attract & generate traffic (website visits) from people interested in your products or services.
How Does SEO Work?
Internet search engines (Google, Bing, Yahoo) use search bots that go from website to website, very much like a honeybee goes from flower to flower. Search bots collect information about the content of each website page and use that information to index that page for a specific search engine. The search algorithms of the search engines then assess a variety of factors about that website page to determine where it should show up in search results for a specific query that's typed in by people using the internet.
This process and technology are designed to help people efficiently find the information for which they are searching on the internet. The algorithm will bring up the links & descriptions of content it thinks are most relevant and useful, based on whatever search query was inputted.
Search Ranking Positions Affect Leads You Get
It's common knowledge that the higher your page ranks in search results, the more leads (clicks) you get on your page.
For example: A SearchEngineWatch.com study revealed that the first position in organic searches (the listings that show up just under the ads) garner 33% of the click-throughs, or leads.
However, for small businesses with limited marketing budgets, it's not realistic to aspire to be in the first position because it takes so much time and money to get there, and stay there.
The more realistic approach for small & emerging businesses is to follow SEO basics and try to get on the first page of search results.
Keyword Optimization: The First, Most Basic SEO To Deploy
There are many SEO strategies that can help you rise in the rankings. The first, most basic SEO strategy is keyword optimization of the actual page content and for the SERPs (Search Engine Results Pages.) Here's a step-by-step process of how this works:
Step 1: Conduct Keyword Research
Conduct keyword research with the Google Keyword Planner Tool (found in the Adwords interface), and choose a high-ranking keyword phrase that best describes the content of the page.
Example: email marketing services denver
Step 2: SET the Keyword Phrase for That Page
There's a specific place on the backend of the website page (information site visitors do not see) where you must specifically insert the keyword phrase.
When DeWinter Marketing & PR provides SEO services for businesses, we often find that a keyword phrase has not even been set for specific pages. That is a big problem and compromises your website's ability to rank for that keyword phrase.

Step 3: Write Search Engine Results Page (SERP) Information for The Website Page
Once you've set the keyword phrase, then you need to write a headline, and a short description of the content on the page. This information will appear to internet users on a Search Results Page. The headline and the descriptor should both feature and use the keyword phrase.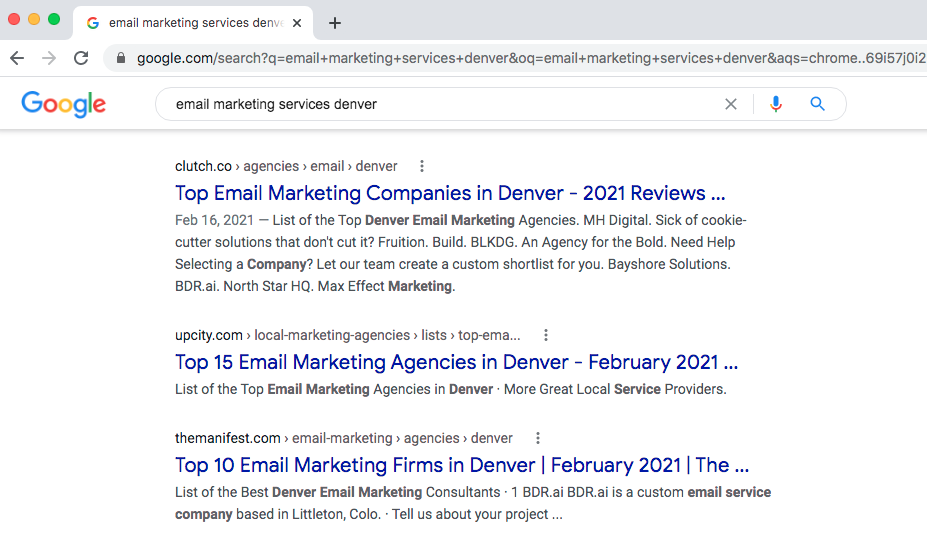 Step 4: Include the Keyword Phrase In The Actual Page Content
Once you've set the keyword phrase on the back end of the site and written your SERPs, you must include the same keyword phrase at various places in the on-page content that website visitors will actually see.
This process needs to be completed for every page of your website. And when you do this most basic activity of Search Engine Optimization, you're doing your business a big favor.
What Happens If You Don't Deploy SEO Basics On Your Website?
Nothing good happens when you don't deploy SEO basics on your website. Here are some consequences of not deploying search engine optimization to your site:
The search bots won't know how to index the website page.
The search engine algorithm will guess how your page should be optimized based on the page content. If your page content is fluffy BS, then your page won't show up in searches for your product or service.
Your website page will show up for searches that have nothing to do with your business.
The bottom line is that, if you are going to bother to build a website, you're shooting your business in the foot if you don't apply SEO basics to the site.
Pitfalls To Avoid When Buying SEO Services
Deploying SEO for websites is both fascinating and complex. It's not for everybody. If you've decided you need SEO for your site but you don't want to do it yourself, there are some pitfalls to avoid when developing a website and deploying SEO. Here are some highlights of pitfalls that can compromise the success of your website:
SEO Pitfall 1: Required Monthly SEO Spend
If you hire a digital marketing agency to do the SEO on your website, most of them will require that you sign a contract & commit to spend a certain amount of SEO budget per month for at least 3 months. Required monthly spending thresholds usually start at $500 a month and go WAY up from there. Most small business can't afford this, NOR DO THEY NEED THIS.
When you're doing basic SEO for a website, or even a few pages, it's more affordable and realistic for small businesses to pay for SEO as they can afford to deploy it, starting with the most important pages being optimized first. The most important pages would include your HOME page and your PRODUCTS or SERVICES page.
In contrast to these big digital agencies, DeWinter Marketing offers its SEO services Ala carte, by the hour.
 You can buy as much or as little of our SEO services time as you can afford by the hour, and we'll deploy SEO on the most important pages first. (We can always do more SEO for you down the road when more budget is available.) We do NOT require minimum monthly spends.
SEO Pitfall 2: Assume SEO Is Included In Your Website Development Costs
If you haven't paid anyone to do SEO on your website, there may not be any Search Engine Optimization on your website. When you hire a website developer, do not assume they'll do the SEO for you. Website developers are paid to take your content & photos, and build a beautiful, compelling website. When you're budgeting for a new website, or a website refresh, be prepared to pay for SEO & website content development services separately.
SEO Pitfall 3: Hire a Writer Who Does Not Know How To Do SEO
Over the years, we have found that many writers simply do not know how to do SEO. They love to write. But they don't know how to make your page rank and generate leads. This can seriously compromise the success of your website. When you're hiring someone to develop content for your website, find out if they know how to do SEO, or not. Ask questions. Find out what their process is for deploying SEO. And choose website content development experts who know how to create content with the SEO built in.
These SEO basics are where you start when you want to build a workhorse website that attracts visitors & generate leads.
Need affordable, effective SEO services? Get in touch & contact DeWinter Marketing & PR!