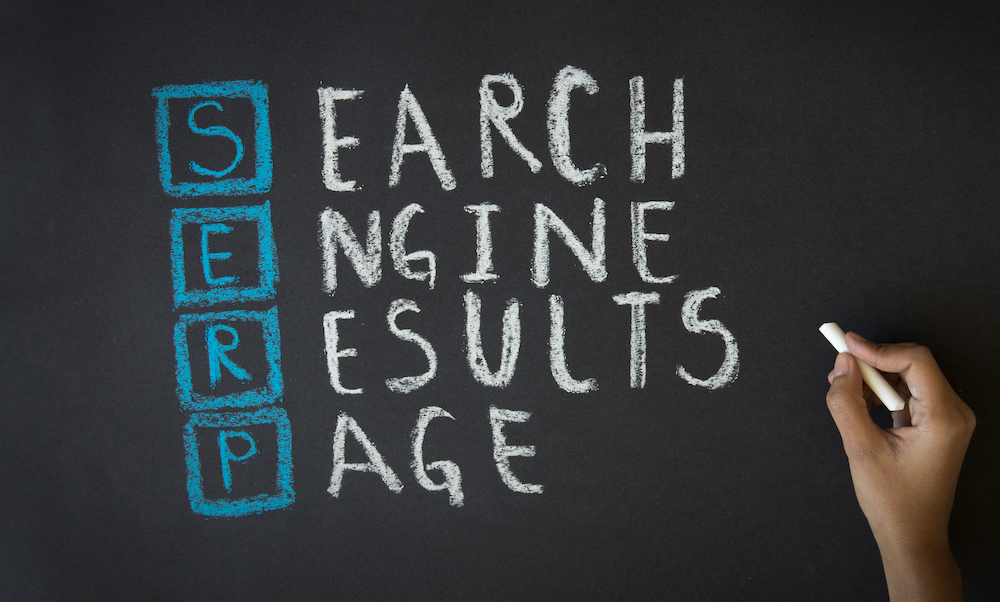 SERP Basics Help Your Website Rank Higher & Generate More Leads
One of the most important tasks that will help your website show up higher in website searches is deploy SERP basics as a part of your website's Search Engine Optimization (SEO) strategy. When you develop and optimize a website to show up in the search engines, you have to research high-ranking keyword phrases and assign a specific keyword phrase to each page on your website. The second step is to use the keyword phrase in the on-page content that site visitors will see, and to use the keyword phrase in the headline and META descriptors in the SEO section of the website. When you implement search engine results page basics, it helps your website show up higher in the internet search when people are searching using a specific keyword phrase.
What Are SERPs?
A search engine results page (SERP) is the page that a search engine like Google shows after you submit a search query using a keyword phrase or asking a question. Once a user submits a query, the Google algorithm will generate a page that includes paid ads that match your search and organic (non-paid) search results.
 Why are SERPs important in Search Engine Optimization?
SERPs are important for your website's SEO because those Search Engine Results Pages help you be found by people looking for the products or services that you have to offer. For example, if you're a veterinary clinic operating in Denver Colorado, one of the keyword phrases that would be assigned to one of the pages on your website would be: Veterinary Clinic Denver Colorado, or Veterinary Clinic In Denver Colorado.
Then, when a pet owner is looking for a veterinarian, they use a typed or voice search on Google. The Google algorithm will then bring up a series of ads and websites that meet that search criteria.
In short, when you strategically apply keyword phrases to your website on the content pages and in the SEO fields, your customers can find you and contact you.
What Are The Elements That Create SERPs?
SERP basic involve three key elements that must be applied to every page on your website:
SERP Element 1: A title / headline that incorporates that targeted keyword phrase for that page on your website
SERP Element 2: A short description of the page's content that also incorporates the targeted keyword phrase
SERP Element 3: The website page's address
Here's an example:
Targeted keyword phrase:
Denver marketing agency (100-1000 searches per month)
SERP headline:
Denver Marketing Agency | DeWinter Marketing & PR
SERP description:
DeWinter Marketing & PR is a Denver Marketing Agency offering affordable, effective branding, marketing & PR. Contact Us!
Note: SERP headlines & Meta descriptors are character-limited. You're allowed up to 60 characters (including spaces) for the headline, and up to 160 characters (including spaces) for the descriptor.
Where Is SERP Information Applied?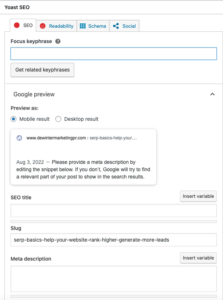 The standard SEO tool that's part of a WordPress website is Yoast SEO. When you log into your website and access a specific page, there will be a place on the page with information fields. You write your SERP headline and SERP descriptor, and set the page web address in that section, and hit the "save" or "update" button.
Once you have followed this process and publish the website page, the Google algorithms search bots will visit your website, scan the content and the pre-set SERP header and descriptor, and index that page so that it shows up when people conduct an internet search using the keyword assigned to the page on your website.
Benefits of Applying Search Engine Results Page Basics To Your Website
The benefits of applying SERP basics to your website are both simple and clear. You will show up in internet searches conducted by people looking for what you have to offer.
How To Develop SERPs For Your Website Pages
There are 4 steps to developing SERP headlines and SERP descriptors for the pages on your website.
Step 1: Conduct keyword research and assign a relevant keyword phrase to a specific page on your website. (This should be done for all the pages on your website.)
Step 2: Write a SERP headline and a SERP description for the page and insert them in the SEO fields associated with that website page.
Step 3: Create a website page address that makes use of the keyword phrase.
Step 4: Wrap it up by including that keyword phrase in the on-page content the site visitor will see, and publish the page.
SERP Basics Summary
Applying SERP basics to your website is one of the most productive actions you can take to help the website show up in internet searches. It's complex but necessary for the health of your website and your business or organization.
Need help properly optimizing your website with SERPs and best-practice Search Engine Optimization? Contact DeWinter Marketing & PR for help!